I hope everyone had a good Christmas this year. This Christmas Holiday was one of mixed emotions for me.
The Good . . .
One tradition that the Ritchie Family does is that we all get into the minivan, drive to Starbucks and order our hot chocolates and grande peppermint mocha latte with two pumps (I don't drink coffee and don't understand Starbucks language). Then we drive around Bloomington/Normal to see the Christmas decorations.
The Pantagraph featured some houses this year and we went to see some of them. Here are some pics of my favorite Christmas House in Bloomington/Normal: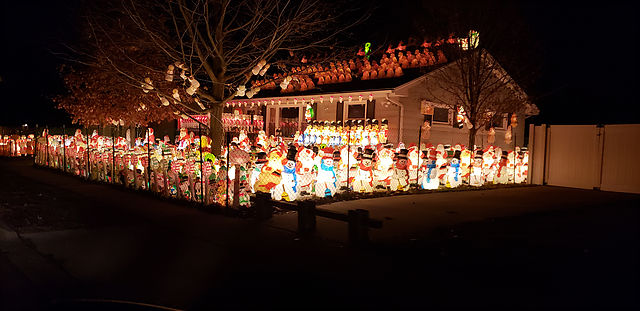 This house is absolutely crazy. I would like to know how many ornaments are in these yards? There are so many Christmas figures that it has totally filled one yard and spills into the yard next door!! There is so much to take it. I like the Winnie the Pooh ornament and the Alien yard ornament mixed in with traditional Santa's, Snow Men, Gingerbread Men and Nutcrackers. How many extension cords are needed to make this all work? Seeing this was actually one of my Christmas highlights this year – so thank you 1210 Hovey!
The Not so Good . . .
This was the first Christmas since my Dad passed away last August. It was tough not having him with us this year. I know that I have a lot of clients, friends, and family that have lost loved ones this past year or in year's past and that the Holidays can be a difficult time. This year made me appreciate the memories I had of my Dad . . . and to appreciate the friends and family I still have even more.
Remembering loved ones no longer with us during the Holidays can be tough. Sorry for your loss and I wish I could make things better for you. I hope looking at the pictures of the over the top Christmas House ornament collection puts a smile on your face – like it does for me – and helps in a small, tiny way.
Wishing all of you the best in 2019.